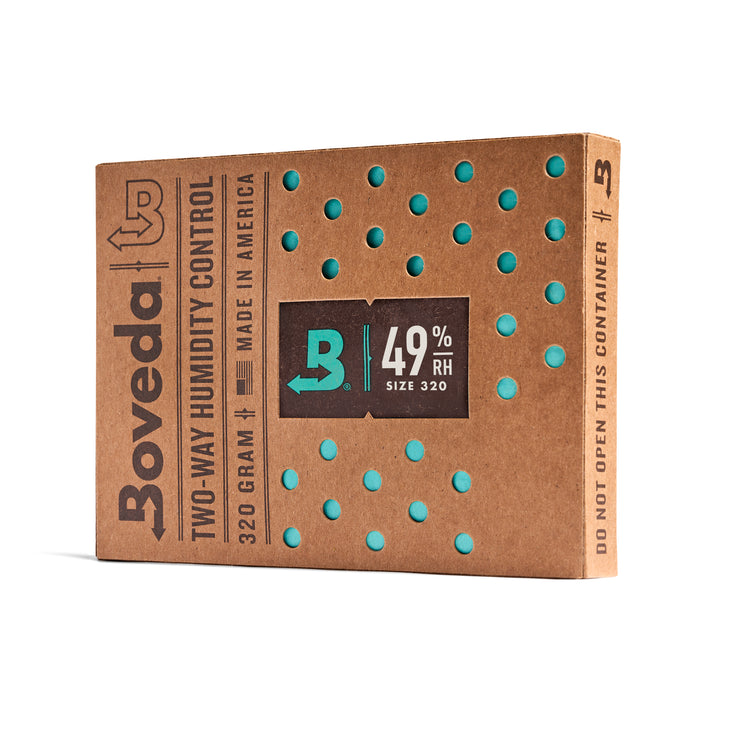 B49 for Display Case for Guitars & Other Wooden Instruments
Precise protection favored by musicians, collectors, and museum curators. One X-Large Boveda is the solution for maintaining the ideal humidity in a larger environment. Preserves the condition of a guitar or other wooden instrument while it's in a closed display case. Use one (1) Boveda per instrument in a display case, up to a maximum of six (6) instruments per case.
Information
DETAILS:
Use the X-Large Boveda in a display case or multi-instrument utility case to preserve wooden instruments, including:
Fretted instruments—acoustic and electric
Stringed instruments
Wooden woodwinds
Boveda for musical instruments:
Requires zero maintenance—no more filling messy hoses and snakes and wetting sponges
Maintains an ideal relative humidity range—40-60% RH—for instruments in a closed display case
Prevents wide fluctuations in humidity that cause the wood to expand or shrink, and degrade its performance abilities
HOW TO USE:
First remove the clear overwrap from the pack. (DO NOT OPEN the Boveda itself nor remove it from its brown cardboard box.)
Simply place the Boveda anywhere in your instrument display case and close the door, it's that easy.
Always keep your case closed when using Boveda.

For a tidier look, slip this pack onto a Boveda Mounting Plate (available separately) and affix anywhere in your instrument display case.
PACKAGING:
Each single Boveda is individually overwrapped. An unopened Boveda is good for up to two (2) years.
SPECIFICATIONS:
6.75"/11.15 cm x 5"/12 cm x 0.82"/2.08 cm
LIFFESPAN:
Replace Boveda 2-way humidity packs every three (3) months.
ACCURACY:
Achieves and maintains a constant relative humidity (RH) range between 40% and 60%, the industry standard for wooden instruments.
INGREDIENTS:
Food-grade salt, purified water and a food-grade thickening agent sealed inside a leakproof membrane.
Our Customers Say
Total 5 star reviews: 2
Total 4 star reviews: 0
Total 3 star reviews: 0
Total 2 star reviews: 0
Total 1 star reviews: 0
100%
would recommend this product
B49

just picked this up to place in my gun case to keep the humidity from getting to it,, have only had a short time, but a freind hooked me up with the info,, should work fine as it has for him,,,

Great and useful package

Seems like just the thing for my gun cabinets that are in a humid part of the house. Be interesting to see how long they last before hardening up. I've only had them 2-3 weeks.
Reviews Loaded
Reviews Added