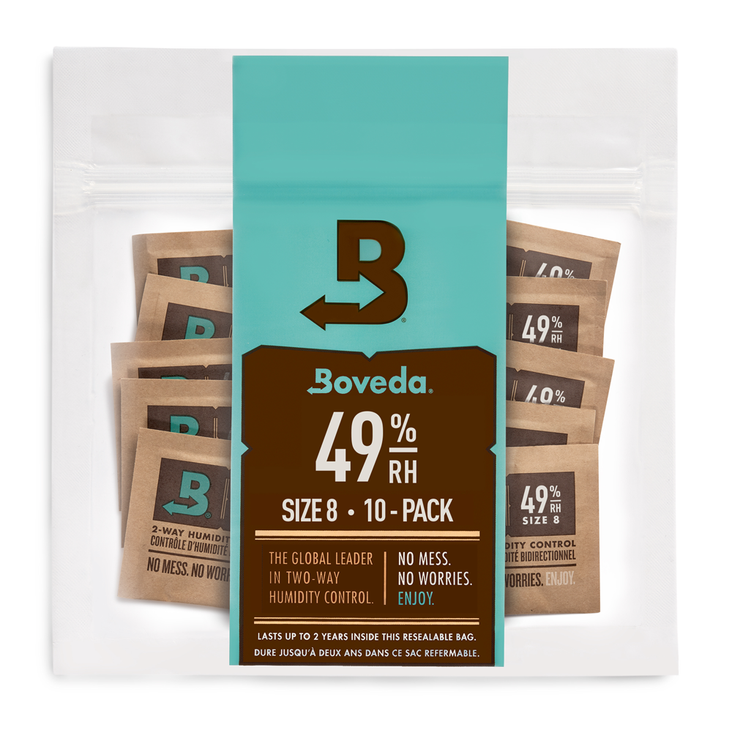 B49 Refills for Bow Tubes & Small Woodwind Cases
Maintaining consistent humidity means consistent performance. This is the right size Boveda to refill a Mini Leakproof Holder for a bow tube or tight-fitting instrument case for an oboe, clarinet, or flute.
Information
DETAILS:
Requires zero maintenance—no more filling messy hoses and snakes and wetting sponges
Prevents humidity fluctuations to limit bow hair movement
Reduces expansion and contraction of wooden instruments
HOW TO USE:
BEFORE USING BOVEDA:
ALWAYS insert Boveda into a leakproof holder before using in your instrument case. The holder acts as a liquid barrier if a packet is accidentally punctured while extending the life of your Boveda packets. The patented interior material allows water vapor to pass through to your instrument or bow. The exterior is soft, like a polishing cloth, so it doesn't scratch the finish.
DO NOT mix different Boveda RH levels within the same instrument case.
DO NOT use other humidification products with Boveda in the same case because they will fight against each other and reduce the efficiency of Boveda.
STEP-BY-STEP INSTRUCTIONS:
Insert an unwrapped B49 refill pack for bows and small woodwinds into the opening of the Mini Leakproof Holder. (Holder sold separately.)
Make sure the top flap of the holder covers the pack so it doesn't slip out.
Place the Boveda holder in your bow tube or woodwind case in an open area or fold the holder to fit inside.
Allow space within the case to avoid crimping or pinching the Boveda.
Close the case's lid. Always keep your case closed when using Boveda.
PACKAGING:
Packaged in a resealable high-barrier heavy-duty plastic bag with a zip closure. An unopened bag of Boveda is good for up to two (2) years. Each Boveda in this bag is not individually overwrapped.
SPECIFICATIONS:
2.75"/7 cm x 2.5"/6.35 cm
LIFFESPAN:
Replace Boveda 2-way humidity packs every three (3) months
ACCURACY:
Achieves and maintains a constant relative humidity (RH) range between 40% and 60%, the industry standard for wooden instruments.
INGREDIENTS:
Food-grade salt, purified water and a food-grade thickening agent sealed inside a leakproof membrane.
Our Customers Say
Total 5 star reviews: 1
Total 4 star reviews: 0
Total 3 star reviews: 0
Total 2 star reviews: 0
Total 1 star reviews: 0
100%
would recommend this product
Bought for Jord Watch

I bought these as replacements for my Jord watch container. The watch is mostly made of wood and this is perfect.
Reviews Loaded
Reviews Added