Boveda Size 67 for Cannabis, 62% RH 12-Pack
After harvesting large amounts of weed, store and protect it with Boveda's patented 62% humidity control packs. This convenient 12-pack is perfect for protecting multiple bags or totes of cannabis. Simply use one Size 67 for every pound of cannabis in the airtight container to keep it fluffy, sticky, and FRESH.
62% RH is for:
People who live in dry climates
People who live in high altitudes
People who prefer sticky flower
Reviving dry weed
Size 67 is for:
Large airtight weed storage containers or bags, including jars, CVaults, or canisters
Keeping up to one pound (453 grams) of weed fresh
Those who store 1 pound at a time in different containers, or want to buy Boveda in bulk
Information
HOW TO USE:
Boveda is safe to touch cannabis.
First, remove a Boveda pack from the resealable plastic bag, making sure to reseal the bag after. Then simply place the pack in your jar or bag of cannabis. Replace the jar's lid or seal the bag to ensure it's airtight. That's it!
Boveda 62% RH works automatically; you do not need to activate the pack. If the environment in the container is dry, it will release moisture. If it is humid, the pack will absorb moisture.
Do not mix Boveda RH levels within the same container, and do not use Boveda in the same container with other humidification products. They will counteract each other and reduce the efficiency of the Boveda.
LIFESPAN:
In an airtight container: 2 to 4 months (or less depending on the moisture content of the flower, how frequently the container is opened, and the storage conditions)
Unopened package: Up to 2 years
REPLACE:
Do the touch test. Order replacement packs BEFORE Boveda is totally rigid to avoid a lapse in humidity protection in your cannabis container.
Boveda is still working if you feel:
Hardening at its corners
Soft spots among some hard areas
Boveda is expired if:
The entire pack feels rock solid all the way through.
ACCURACY:
In an airtight environment, all Boveda are accurate to +/- 2% of the RH printed on the pack.
INGREDIENTS:
Food-grade salt, purified water and a food-grade thickening agent.
INDIVIDUAL PRODUCT DIMENSIONS:
Size 67: 3.5"/8.89 cm x 5.25"/13.335 cm
3 Steps To Protect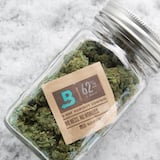 THE ORIGINAL TERPENE SHIELD™ IS CREATED TO PROTECT YOUR TERPENES
Boveda humidity control creates a monolayer of purified water to protect your flower inside your airtight container, keeping the terps you value safe until they're ready for use.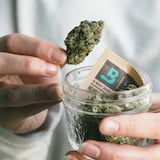 PLACE BOVEDA INTO YOUR FAVORITE AIRTIGHT CONTAINER AND CLOSE
Our patented 2-way humidity control comes in a variety of sizes to fit any storage or packaging size.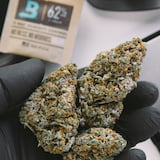 TAKE PRIDE IN A TRULY FRESH FLOWER
When you are ready to use, open the container and grind your flower. The terpenes will be released into a vibrant aroma and full flavor for you to enjoy while you're smoking.
Our Customers Say
Total 5 star reviews: 4
Total 4 star reviews: 0
Total 3 star reviews: 0
Total 2 star reviews: 0
Total 1 star reviews: 1
80%
would recommend this product
Great product!!!

A must to keep your green just like it was the day it finished

Absolutely the Best! Absolutely the Easiest!

Perfect for Desert Dryness!

Just Right for Your Lb!

Great project

I love how great they work. Having your product at the perfect moisture all the time is beyond amazing. Definitely a game changer.

Save those terpenes

I use Mason jars with a packet of Boveda to keep my weed viable for a year.

I do not recommend this product

Make your packaging discreet

I think you guys are crazy listing the order on the outside of the box. It's not the mailman or anyone else's business to know what's in the box. Make your packages discreet!!! WTF

BO

Boveda® Official Site

6 months ago

Thank you for your feedback. All Boveda shipments may ship in a Boveda branded box or Boveda branded mailing labels.
Reviews Loaded
Reviews Added