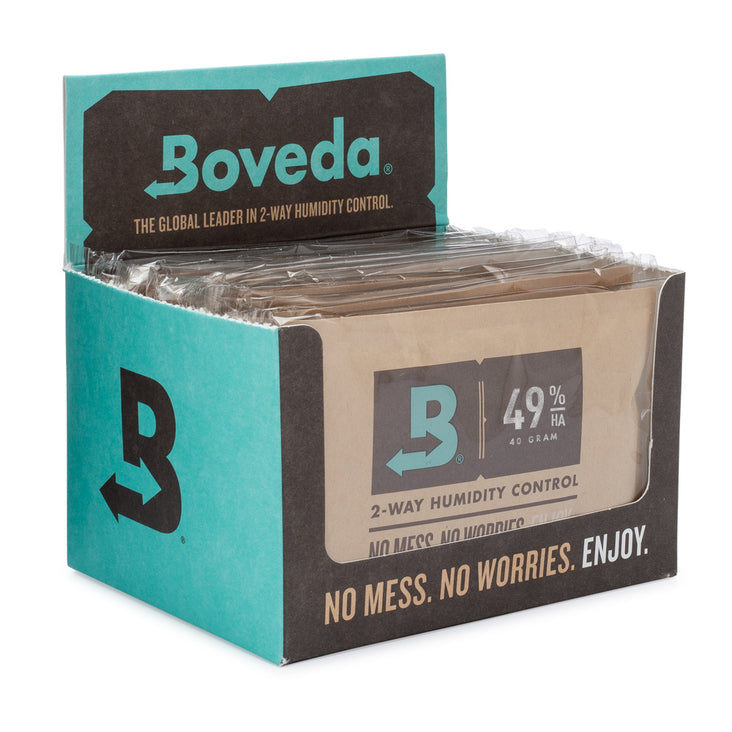 Replacement Packs for Fretted and Bowed Instruments and Woodwinds | Individually Overwrapped
Boveda High-Absorbency 49% RH 12-Pack Size 40
Musicians, stop battling excessive moisture in instrument cases when you live in high humidity. These specialty packs absorb 3x more moisture than Boveda 49% RH (relative humidity).
Using High-Absorbency Boveda in an instrument case:
Protects wood instruments that are exposed to year-round extreme humidity of 50+% (Lower humidity? Choose Boveda 49% RH for wood instruments.)
Prevents warping and mildew build-up
Curbs humidity fluctuations that throw off an instrument's measured alignment and cause permanent damage (think going in and out of air-conditioned venues, traveling by air, performing outdoors, etc.)
Automatically maintains constant RH between 45% and 55% for instruments in high humidity climates, including:
Acoustic guitar
Hollow-body guitar
Nylon string guitar
Semi-hollow body guitar
Guitarrón
Hollow-body bass
Cello/

violoncello

Double bass/upright bass
Bass clarinet
Bassoon
Multi-instrument players use a 12-Pack to refill:
Directional Starter Kit
Small Starter Kit
Large Starter Kit
Single Fabric Holder
Double Fabric Holder
Watch Now
How Luthiers Combat Extreme Humidity
Extreme humidity is one of the biggest risks to instruments. Musicians who live in year-round high humidity use a special High-Absorbency Boveda to protect the structural integrity, playability and sound of instruments. Learn more about how high humidity affects wood instruments from guitar builder and player, Hozen, who founded Maestro Guitars in Singapore.
Information
HOW TO USE:
Remove Boveda's plastic wrapper. (Do not open the Boveda itself.)
Just slip unwrapped Boveda into the pouch(es) of its protective fabric holder. Place in case and close the lid. Always keep your case closed when using Boveda.

Always insert Boveda into a pouch of a Boveda Fabric Holder before placing in an instrument case. The fabric holder allows Boveda to last longer and work better and acts as a liquid barrier if a packet is accidentally punctured.
DON'T:
Mix Boveda 49% RH High-Absorbency and Boveda 49% RH or different Boveda RH levels within the same instrument case
Use Boveda in the same case with other humidification products because they will fight against each other and reduce the efficiency of Boveda
HOW MANY BOVEDA TO USE:
To refill a Boveda Directional Fabric Holder: Use one (1) Boveda High-Absorbency 49%

To refill a Boveda Single Fabric Holder: Use one (1) Boveda High-Absorbency 49%
To refill a Boveda Double Fabric Holder: Use two (2) Boveda High-Absorbency 49%
PACKAGING:
Each Boveda in the cube is individually overwrapped.
LIFESPAN:
Boveda will last 1-6 months depending on the time of year, your climate and your case.
Unopened package: Up to two (2) years
REPLACE BOVEDA:
When Boveda High-Absorbency packs expand, it's time to replace the humidity packs in an instrument case. Order replacement packs BEFORE Boveda expands to avoid a lapse in humidity protection for an instrument in high humidity.
ACCURACY:
Achieves and maintains a constant relative humidity (RH) range between 45% and 55%.
INGREDIENTS:
Food-grade salt, purified water and a food-grade thickening agent sealed inside a leakproof membrane.
INDIVIDUAL PRODUCT DIMENSIONS:
Size 40: 5.25"/13.34 cm x 3.5"/8.89 cm
CUBE DIMENSIONS:
5.5"/13.97 cm x 3.75"/9.525 cm x 4.5"/11.43 cm
Our Customers Say
Total 5 star reviews: 1
Total 4 star reviews: 0
Total 3 star reviews: 0
Total 2 star reviews: 0
Total 1 star reviews: 0
100%
would recommend this product
It works

This is the only product that I have used that handles high humidity environments.
Reviews Loaded
Reviews Added