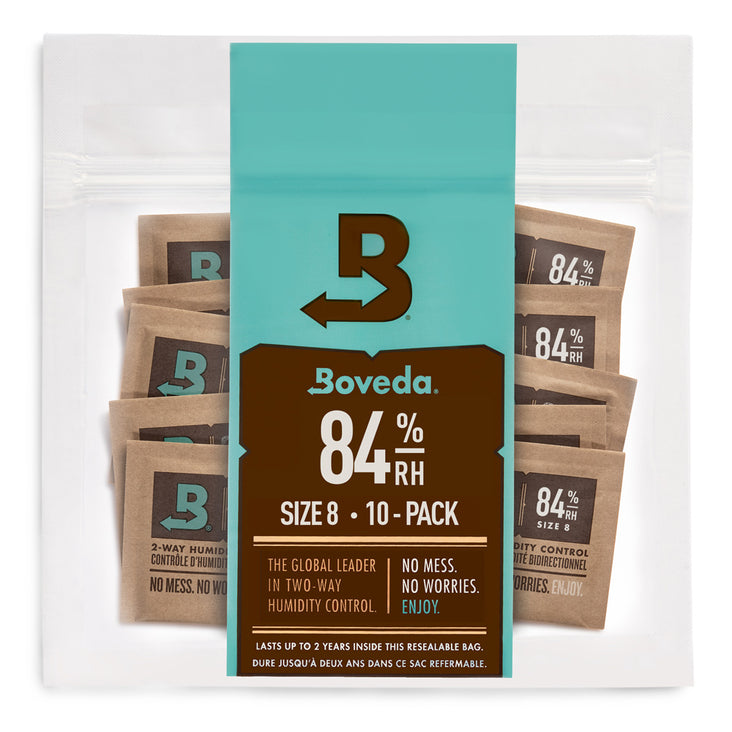 For Woodwind Reeds | Day-Of Performance | Multiple Reed Cases
Boveda 84% RH 10-Pack Size 8 For Reeds
Whatever instrument is up, make sure all of the reeds in their individual reed cases are ready to play when you are. When the moisture is right, reeds keep their shape for better performance. No more split or cracked reeds—and they'll last longer, too.
84% is for:
Dampening reeds for rehearsals and performances
Clarinets, saxophones, oboes, bassoons, contrabassoons and English horns
Maintaining a consistent humidity level to prevent the cane from warping
Eliminating the hassle of storing reeds with a wet sponge, in a glass of water or in your mouth
The 10-Pack is for:
Multiple reed cases
Many replacements for one reed case
Use in a non-airtight reed case or reed container (not included)
Each Size 8 in this 10-Pack fits in the:
Watch Now
Why is Boveda Good for Reeds?
Storing reeds properly at a consistent humidity level is one of the most important things you can do as a woodwind player. Using Boveda in a reed case extends the life of reeds. Watch this video to learn how to use Boveda to protect woodwind reeds.
Information
HOW TO USE:
Insert the unwrapped Boveda 84% into a pocket or available open area inside your reed case. (Make your Boveda last 2.5 times longer with a Boveda Mini Fabric Holder, which is available separately here.)
Close the lid, so Boveda can add or absorb moisture as needed to balance humidity in the reed case.
DON'T:
Mix different Boveda RH levels within the same reed case
Use Boveda in the same case with other humidification products because they will fight against each other and reduce the efficiency of the Boveda
HOW MANY BOVEDA TO USE:
Use one (1) Boveda Size 8 with up to eight (8) woodwind reeds in a reed case or with a reed storage humidification system.
PACKAGING:
A Boveda 10-Pack is packaged in a resealable high-barrier heavy-duty plastic bag with a zip closure. Each Boveda is not individually overwrapped.
LIFESPAN:
In a reed case: Boveda will last 60 days depending on the time of year, your climate and the reed case.
Unopened package: Up to two (2) years
REPLACE BOVEDA:
Do the touch test. Order replacement packs BEFORE Boveda is totally rigid to avoid a lapse in humidity protection for your woodwind reeds.
Boveda is still working if you feel:
• Hardening at its corners
• Soft spots among some hard areas
Boveda is expired if:
• The entire pack feels rock solid all the way through.
ACCURACY:
Achieves and maintains a constant relative humidity (RH) range between 80% and 85%.
INGREDIENTS:
Food-grade salt, purified water and a food-grade thickening agent sealed inside a leakproof membrane.
INDIVIDUAL PRODUCT DIMENSIONS:
Size 8: 2.75"/7 cm x 2.5"/6.35 cm
Our Customers Say
Total 5 star reviews: 1
Total 4 star reviews: 0
Total 3 star reviews: 0
Total 2 star reviews: 0
Total 1 star reviews: 0
100%
would recommend this product
Reviews Loaded
Reviews Added