Use (1) Size 8 for every 5 TOTAL cigars each humidor can hold
Boveda Size 8
Protect smokes in a travel humidor, Pelican™, Herf-a-Dor or cigar case—whether you enjoy premium cigars while golfing, skiing, camping, boating or just out for the day. Without Boveda, cigars are exposed to fluctuating humidity levels that cause the lose of essential oils and flavors and affect smokability. Preserve the craft of cigar makers who expertly blend tobaccos and perfectly balance the filler, binder and wrapper.
Simply place Boveda in a portable humidor, then close the container, it's that easy.
Information
Individual product dimensions: 2.75" x 2.5"
Place Boveda in your humidor for precise Relative Humidity (RH), so they're ready for that perfect moment—the smoke. Choose among 4 RH (65%, 69%, 72% and 75%), depending on personal preference:
65% RH Boveda for Cuban, Dominican, Puro or drier cigars or if humidor is in a humid climate. Also appropriate for up to 1 oz English, flakes and other non-flavored pipe tobacco.
69% RH for airtight travel humidors, humidor bags and tupperdors. Also appropriate for up to 1 oz English, flakes and other non-flavored pipe tobacco.
72% RH for most travel humidors and cigars with fragile wrappers, such as Cameroon and Connecticut Shade. Also appropriate for 1 oz aromatic pipe tobacco.
75% RH Boveda to over compensate for leaky travel humidor or cigar case or if humidor is in a dry climate. Regulates moisture lost to achieve 69% RH. Also appropriate for up to 1 oz aromatic pipe tobacco.
How many Boveda for your humidor? Use one (1) Size 8 Boveda for up to 5 TOTAL cigars a travel humidor can hold. Example: For a 12-cigar capacity humidor, use three (3) Size 8 Boveda at once. For bigger humidors, use Size 60 Boveda.
Nothing to add or activate—Automatically adds and absorbs moisture to keep your premium cigars fresh and tasting the way cigar makers intended.
Long lasting—Maintains the right RH for 2-4 months in a travel humidor.
Packaging:
10 pack in resealable high-barrier plastic bag. Zips closed to keep these unwrapped Boveda fresh for up to 2 years.
Don't mix RH levels within the same humidor. And do not use Boveda in the same humidor with other humidification products because they will fight against each other and reduce the efficiency of Boveda.
3 Steps to Protect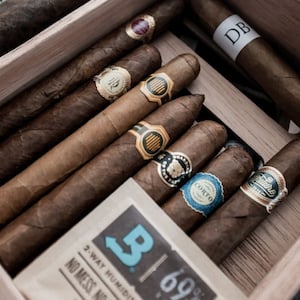 NO MESS. JUST PLACE A BOVEDA IN YOUR HUMIDOR.
Place Boveda in your humidor right on top of your cigars or use a Boveda Holder. If your Boveda is wrapped in a clear overwrap, remove the overwrap first before putting Boveda in your humidor. Boveda is FDA approved food safe.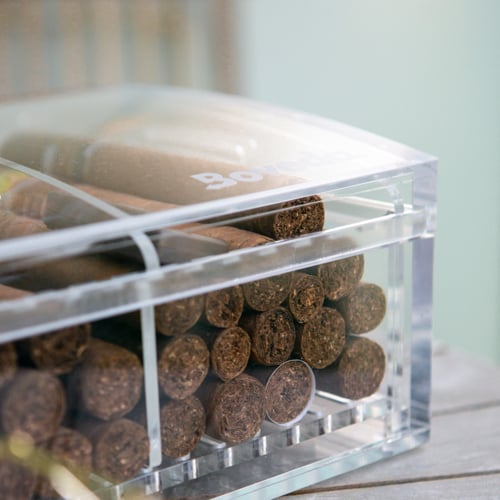 NO WORRIES. SIMPLY CLOSE THE LID.
Boveda will begin working immediately to precisely stabilize the humidity levels in the humidor.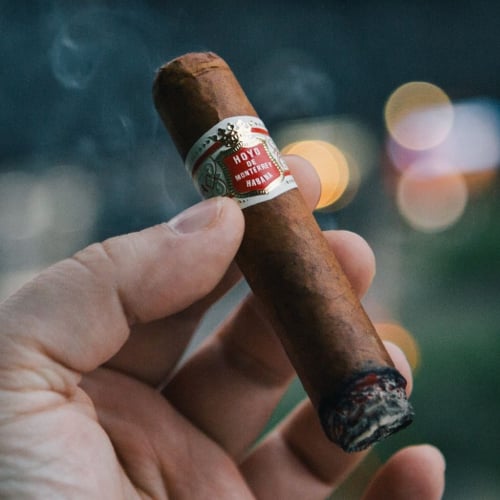 ENJOY.
Know with confidence that your collection is protected. Enjoy the perfect smoke, every time.