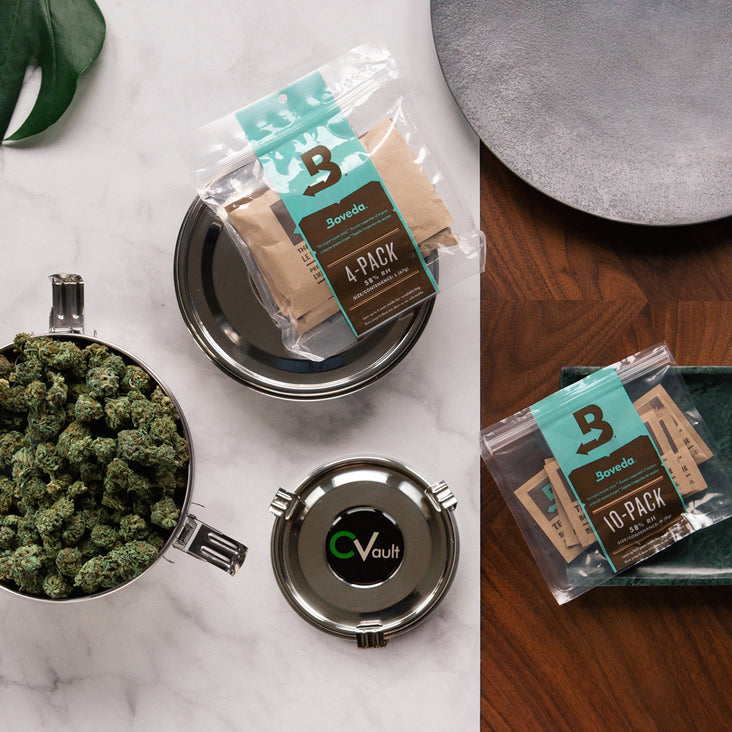 Boveda Home Grow Kit
After you grow it, harvest it and dry it, protect it with Boveda + CVault®.
Care for your home grown cannabis like a pro post-harvest. Boveda, the original terpene shield, has gathered all the tools necessary for curing and storing cannabis and hemp and put them all together in one convenient bundle. Includes: 4-pack of Size 67 Boveda for the 2-Liter CVault and 10-pack of Size 4 Boveda for the Small Twist CVault.
Information
Includes one (1) each:
Small (3.25" x 1.75") CVault to store up to 14 grams (.5 ounce) cannabis/hemp
10-pack of Size 4 Boveda
2-Liter (7" x 4") CVault to store up to 114 grams (.25 pound) cannabis/hemp
4-pack of Size 67 Boveda
Save the terps with Boveda, the original terpene shield. Protect against mold or overdrying, prevent trichome damage and stop terpene loss.
Revive your herbs safely and confidently post-dry. Takes the guesswork out of how to process your flower post-harvest.
Preserves the aroma, flavor and effectiveness until after the grind. Boveda creates a monolayer of purified water molecules that naturally coats trichomes to shield terpenes and cannabinoids, preserving the smell until use.
All-natural salts and purified water inside a semi-permeable membrane within Boveda packs keep flower fresh for two to four months in LP-grade CVault® containers. Just place into the specially engineered lid and let Boveda get to work saving your terps and curing your medicine. Replace when Boveda is rigid.
Lightproof stainless steel design prevents cannabis from degrading.
Food-grade silicone seal latches closed to create an airtight enviroment to prevent oxidation of cannabis. Shatter-proof—unlike glass jars.
Factory sealed in a high-barrier plastic. Keep the plastic on and you can expect these unwrapped Boveda to stay fresh for up to two years before you're ready to put them to use.
Do not mix Boveda RH levels within the same container, and do not use Boveda in the same container with other humidification products. They will reduce the efficiency of the Boveda.
Our Customers Say
Total 5 star reviews: 3
Total 4 star reviews: 0
Total 3 star reviews: 0
Total 2 star reviews: 0
Total 1 star reviews: 0
100%
would recommend this product
Makes Curing Super Simple

Seriously, just drop a pack in and leave the container shut. All done. I have the 4-liter CVault, and it put two large packs in the holder on the lid until the can gets to about half full and then only use the one, mostly to save on packs. Never had mold and never had to burp it.

How many

How many times should you burp in the storage container? Oh boveda packs are the best I tried a knock off and boy was that a waste of money the packs except for the one that went in trash are still sitting in a closet... You guys are the best to keep your weed moisturized and smelling fire..

Thank you,

On second grow

Krista

Fresh

I've been using Boveda protection for several years. In some cases I use the 72 RH product with outstanding results. There are many variants of methods of storage and sizes of containers. There is also a factor of how much a container is opened. Boveda has always had answers to my personal methods and I continue being a customer.
Reviews Loaded
Reviews Added