Limited-Edition! Deluxe Set: Boveda 50-Count Humidor Starter Kit + Wood Holder
$41.98
Not sure what size you need? Try our Humidor Calculator
When you buy a new wood humidor for cigars, include the tools to get it up and running. (Great for tuning up an existing humidor, too.)
Two (2) 84% RH for Seasoning: Provides moisture directly to the wood, creates a better seal and prevents the wood from robbing moisture from premium cigars.
Two (2) 72% RH for Maintenance: These replace the seasoning packs to maintain ideal moisture, which protects the flavor, condition and burn of cigars.
BONUS! One (1) Boveda Wood Holder: Affixes to the inside of a humidor lid to elevate Boveda up above cigars to maintain a tidy humidor.
This kit is for: Wood humidors made to hold up to a 50 cigars. For larger humidors, use more than one kit at once. (Humidor not included.)
Watch Now
Before You Add Cigars To a New Wood Humidor
You condition a humidor so the wood doesn't suck moisture meant for your smokes. See how to season a humidor in one step, plus maintain it for months with the all-in-one Boveda Humidor Kit.
Information
HOW TO USE:
This deluxe gift set for cigar smokers includes a Boveda Wood Holder. Boveda is safe to touch cigars or use the Boveda Wood Holder to affix Boveda Size 60s to a humidor's lid, shelf or tray. Here's a video to see how to install the pack holder inside a humidor.
STEP 1, SEASONING:
Remove the clear overwrap from the Boveda 84% RH.
Insert all of the unwrapped seasoning packs inside the wood holder. Then attach the holder inside your EMPTY humidor.
Close the lid and DO NOT OPEN THE HUMIDOR FOR 14 DAYS—no matter what the hygrometer readings are.
After 14 days, open the humidor, remove the seasoning packs, and discard them—they aren't reusable.
STEP 2, MAINTENANCE:
Remove the clear overwrap from the Boveda 72% RH.
Place all of the unwrapped Boveda 72% RH inside the wood holder, then re-attach it inside your humidor.
Move your cigars back into your humidor.
Expect to replace your first set of Boveda a bit sooner than you will subsequent packs, which will last from two to four (2-4) months.
Don't mix RH (Relative Humidity) levels within the same humidor. And do not use Boveda in the same humidor with other humidification products because they will fight against each other and reduce the efficiency of Boveda.
HOW MANY SIZE 60 TO USE:
Use one (1) Size 60 Boveda for every 25 TOTAL cigars a humidor can hold. Example: For a 50-cigar capacity humidor, use two (2) Size 60 Boveda at once.
PACKAGING:
Each Boveda in the Humidor Starter Kit is individually overwrapped.
LIFESPAN:
Unopened package: Up to two (2) years
REPLACE BOVEDA FOR MAINTENANCE:
Do the touch test. Order replacement packs BEFORE Boveda is totally rigid to avoid a lapse in humidity protection in your humidor.
Boveda is still working if you feel: •Hardening at its corners • Soft spots among some hard areas
Boveda is expired if: • The entire pack feels rock solid all the way through.
ACCURACY:
RH to +/- 2% accuracy in an airtight container and may stabilize a few points below 72% RH because of humidor quality and external conditions.
INGREDIENTS:
Food-grade salt, purified water and a food-grade thickening agent.
INDIVIDUAL PRODUCT DIMENSIONS:
Size 60: 5.25" x 3.5"
Side-by-side wood holder: 7" x 6" x .6"
KIT DIMENSIONS:
9" x 9.5"
3 Steps to Protect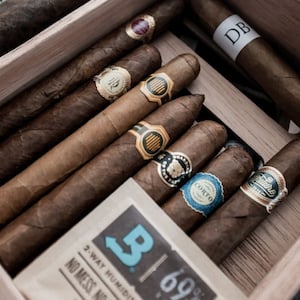 NO MESS. JUST PLACE A BOVEDA IN YOUR HUMIDOR.
Place Boveda in your humidor right on top of your cigars or use a Boveda Holder. If your Boveda is wrapped in a clear overwrap, remove the overwrap first before putting Boveda in your humidor. Boveda is FDA compliant food safe.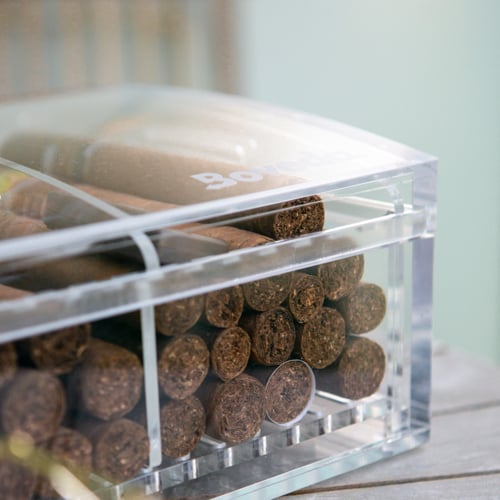 NO WORRIES. SIMPLY CLOSE THE LID.
Boveda will begin working immediately to precisely stabilize the humidity levels in the humidor.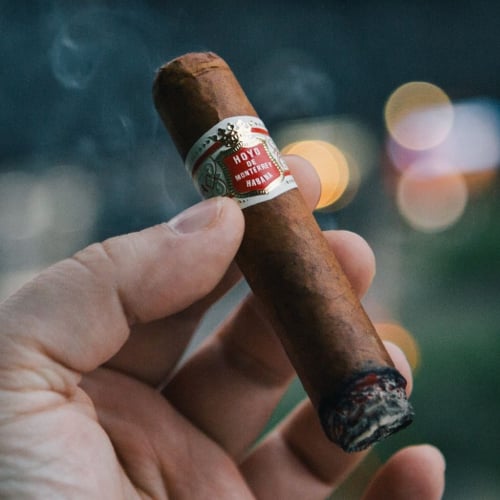 ENJOY.
Know with confidence that your collection is protected. Enjoy the perfect smoke, every time.
Our Customers Say
Total 5 star reviews: 1
Total 4 star reviews: 0
Total 3 star reviews: 0
Total 2 star reviews: 0
Total 1 star reviews: 0
100%
would recommend this product
Reviews Loaded
Reviews Added