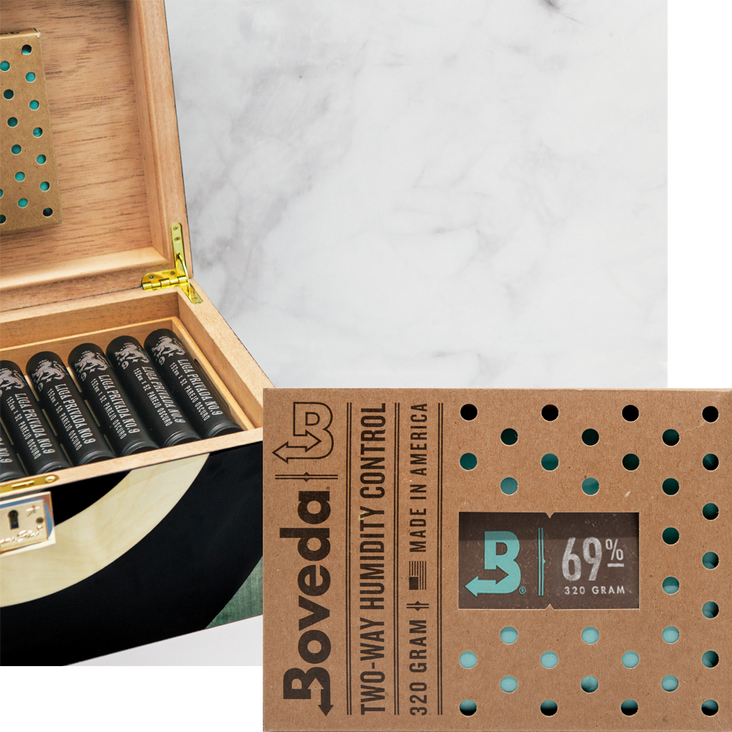 Boveda 69% RH Single Size 320
$27.99
Not sure what size you need? Try our Humidor Calculator
Preserve your favorite smoke moments with the most versatile Boveda ever! ONE (1) Size 320 = FIVE (5) Size 60. Use in a large, medium or small airtight humidor to precisely manage moisture with Boveda 2-way Humidity Control.
69% RH is for:
Wineador cigar coolers, wood humidors with a tight seal, acrylic humidors, tupperdors and coolerdors
Storing most premium cigars
Up to 5 lb of English, flakes and other non-flavored pipe tobacco

A Single Size 320 is for:
More condensed humidity control for a wineador or a large airtight humidor (Use a Boveda 320 instead of several Size 60 packs.)
Long-lasting humidity control in a small airtight humidor (In a 25-count humidor, the Size 320 provides cigar protection for up to 1 year!)
Information
HOW TO USE:
Boveda is safe to touch cigars.
First remove the clear overwrap from the Boveda, then simply place the unwrapped pack in your humidor and close the lid, it's that easy. Boveda 69% RH automatically restores and maintains humidity in wineador cigar coolers, airtight desktop humidors, tupperdors and coolerdors.
Don't mix RH (Relative Humidity) levels within the same humidor. And do not use Boveda in the same humidor with other humidification products because they will fight against each other and reduce the efficiency of Boveda.
HOW MANY SIZE 320 TO USE:
In a wineador:
- 100-cigar capacity: One (1) Boveda Size 320
- 150-cigar capacity: Two (2) Boveda Size 320
- 200-cigar capacity: Three (3) Boveda Size 320
In an airtight humidor, tupperdor or cooler:
- 100-cigar capacity or less: One (1) Boveda Size 320
- 200-cigar capacity: Two (2) Boveda Size 320
- 250-cigar capacity: Three (3) Boveda Size 320
PACKAGING:
Each single Boveda is individually overwrapped.
Keep the Size 320 in its outer cardboard box—it provides protection and stability. (And attaches to a Boveda Mounting Plate, which lifts your pack up and out of the way.) If this Boveda doesn't fit in your humidor, you can remove the Size 320 from its outer cardboard box. Just make sure the blue packet doesn't get pinched or crimped when you close the humidor's lid.
LIFESPAN:
In a humidor: 2 to 4 months (will last up to a year in a smaller 25-count humidor)
Unopened package: Up to 2 years
To increase the lifespan of Boveda in a wood humidor or a wineador with wood trays and shelves, season the unit with Boveda for Seasoning packs. Re-seasoning is recommended, especially if you live in a dry climate or at high altitude.
REPLACE: Do the touch test. Order replacement packs BEFORE Boveda is totally rigid to avoid a lapse in humidity protection in your humidor.
Boveda is still working if you feel: • Hardening at its corners • Soft spots among some hard areas
Boveda is expired if: • The entire pack feels rock solid all the way through.
ACCURACY:
It's common that the actual RH of a humidor will stabilize up to 5 points lower than the Boveda RH you use because of humidor quality and ambient dryness. In an airtight environment, all Boveda are accurate to +/- 2% of the RH printed on the pack.
INGREDIENTS:
Food-grade salt, purified water and a food-grade thickening agent.
INDIVIDUAL PRODUCT DIMENSIONS:
Size 320: 6.75" x 5" x 0.82"
KEEP A TIDY HUMIDOR?
Slip the Size 320 onto the Boveda Mounting Plate, which affixes it to the lid of a humidor.
3 Steps to Protect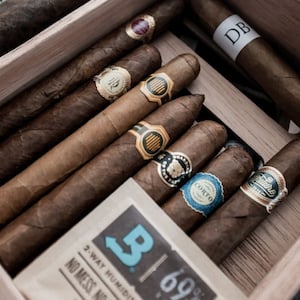 NO MESS. JUST PLACE A BOVEDA IN YOUR HUMIDOR.
Place Boveda in your humidor right on top of your cigars or use a Boveda Holder. If your Boveda is wrapped in a clear overwrap, remove the overwrap first before putting Boveda in your humidor. Boveda is FDA compliant food safe.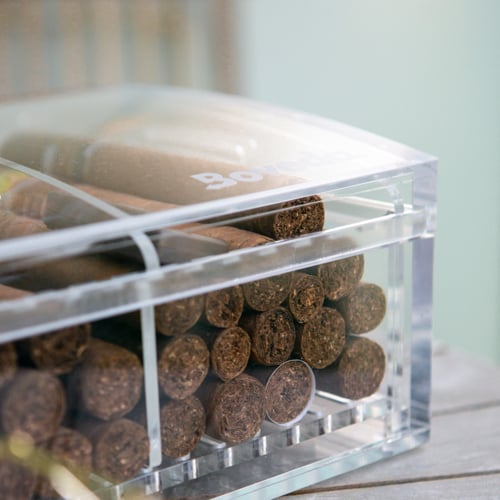 NO WORRIES. SIMPLY CLOSE THE LID.
Boveda will begin working immediately to precisely stabilize the humidity levels in the humidor.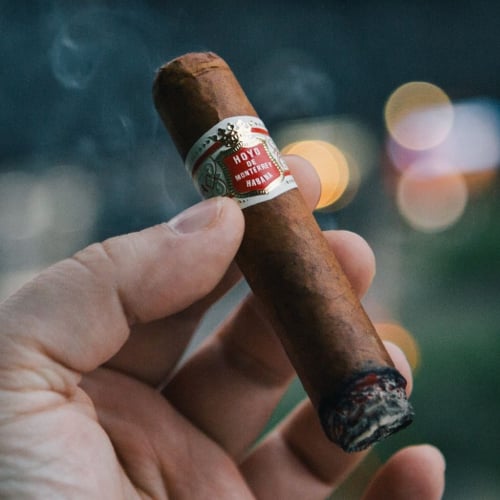 ENJOY.
Know with confidence that your collection is protected. Enjoy the perfect smoke, every time.
Our Customers Say
Total 5 star reviews: 12
Total 4 star reviews: 2
Total 3 star reviews: 0
Total 2 star reviews: 0
Total 1 star reviews: 0
100%
would recommend this product
Great service!

Couldn't ask for anything better.

Humidity

Bodega 69% won't get my humidor above 62%.

Delivered and performed as Expected.

Delivered and performed as Expected.

Dominik B.

Verified Buyer

It's Boveda...the gold standard in cigar care!

What can be said or written which hasn't been done a100x before? Boveda is the only solution which I trust to keep my pricey collection of studies in top fresh shape! Thank you Boveda, keep up the great work

Charlie H.

Verified Buyer

!

Works great in my Newair 250. Keeps my Cigars fresh and ready to smoke!
Reviews Loaded
Reviews Added