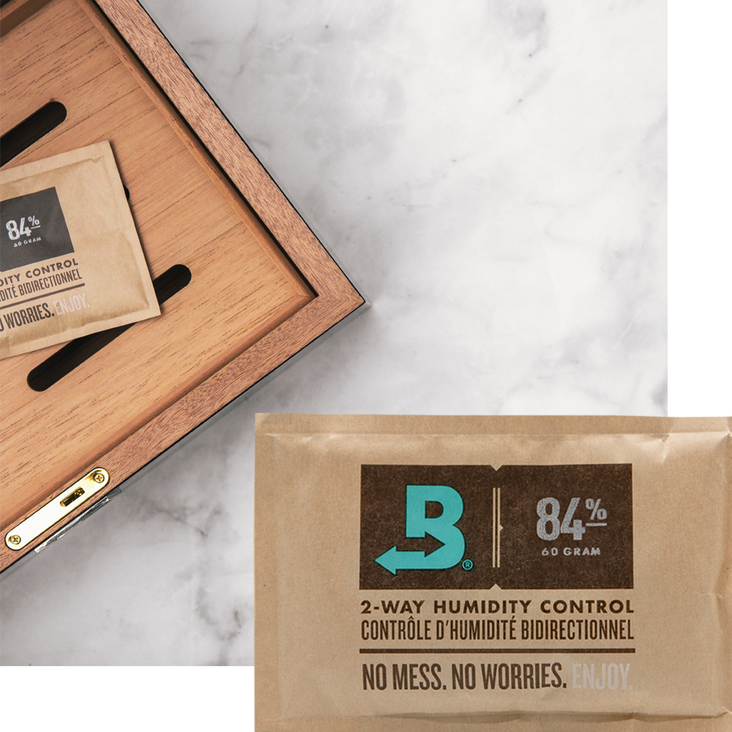 Boveda for Humidor Seasoning Single Size 60
$4.99
Not sure what size you need? Try our Humidor Calculator
Before you add cigars to a new wood humidor, you must season it first. Don't mess with the wipe-down method, which only provides 2% of the moisture the wood really needs. Conduct a thorough seasoning in just one-step with Boveda 84% RH. There's nothing to measure, fill or spill. Just add the pack to an empty humidor and Boveda will automatically prep your humidor for cigar storage.

84% RH is for:
Seasoning wood humidors before adding cigars

Completely humidifying the cellular structure of the wood inside humidors

Preventing new humidors from robbing moisture from cigars and

Boveda 72% RH maintenance packs

Re-seasoning wood humidors
A Single Size 60 is for:
Up to a 25-count humidor. (For larger humidors, use one Size 60 for every 25 cigars your humidor can hold.)
Information
HOW TO USE:
Remove the clear overwrap from the Boveda 84% RH.
Place the unwrapped seasoning pack inside the EMPTY wood humidor.
Close the lid and DO NOT OPEN THE HUMIDOR FOR 14 DAYS—no matter what the hygrometer readings are.
After 14 days, open the humidor, remove the seasoning pack, and discard it—a seasoning pack isn't reusable.
Move cigars back into your seasoned humidor.
Add in a Boveda 72% RH maintenance pack. (Available separately here.)
Expect to replace this first set of Boveda a bit sooner than you will subsequent packs, which will last from two to four (2-4) months.

Don't mix RH (Relative Humidity) levels within the same humidor. And do not use Boveda in the same humidor with other humidification products because they will fight against each other and reduce the efficiency of Boveda.

Re-seasoning is recommended every six months, especially if you live in a dry climate or at high altitude.


HOW MANY SIZE 60 TO USE:
Use one (1) Size 60 Boveda for every 25 TOTAL cigars a humidor can hold. Example: For a 50-cigar capacity humidor, use two (2) Size 60 Boveda at once.
PACKAGING:
Each Boveda is individually overwrapped.
LIFESPAN:
Unopened package: Up to two (2) years
ACCURACY:
It's common that the actual RH of a humidor will stabilize up to 5 points lower than the Boveda RH you use because of humidor quality and ambient dryness. In an airtight environment, all Boveda are accurate to +/- 2% of the RH printed on the pack.
INGREDIENTS:
Food-grade salt, purified water and a food-grade thickening agent.
INDIVIDUAL PRODUCT DIMENSIONS:
Size 60: 5.25" x 3.5"
KEEP A TIDY HUMIDOR?
Size 60 slip right into the Boveda Wood Holder and the Boveda Aluminum Holder.
3 Steps to Protect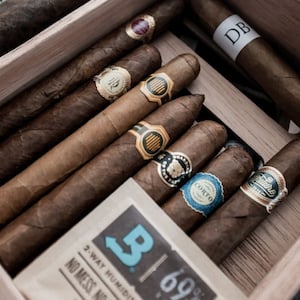 NO MESS. JUST PLACE A BOVEDA IN YOUR HUMIDOR.
Place Boveda in your humidor right on top of your cigars or use a Boveda Holder. If your Boveda is wrapped in a clear overwrap, remove the overwrap first before putting Boveda in your humidor. Boveda is FDA compliant food safe.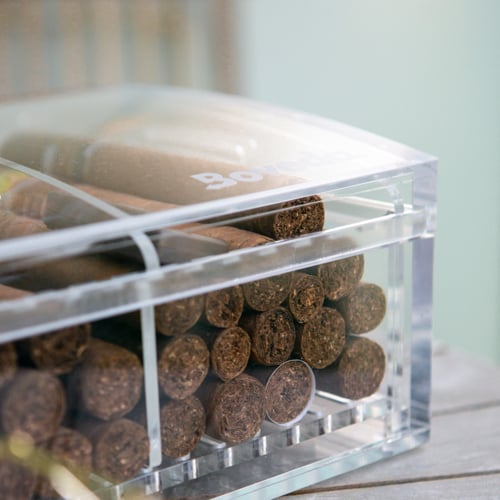 NO WORRIES. SIMPLY CLOSE THE LID.
Boveda will begin working immediately to precisely stabilize the humidity levels in the humidor.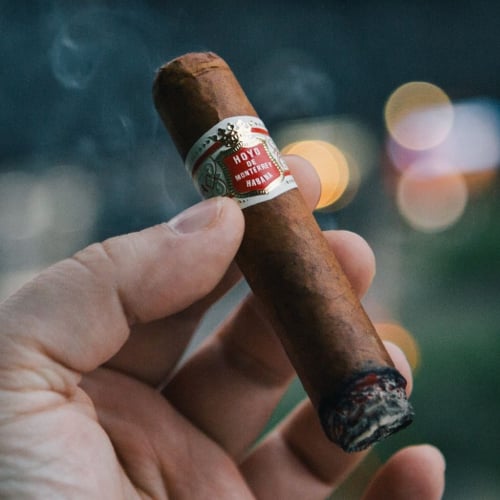 ENJOY.
Know with confidence that your collection is protected. Enjoy the perfect smoke, every time.
Our Customers Say
Total 5 star reviews: 5
Total 4 star reviews: 0
Total 3 star reviews: 0
Total 2 star reviews: 0
Total 1 star reviews: 0
100%
would recommend this product
Douglas S.

Verified Buyer

True pleasure

I have a 100 count a 50 and 2 desk top 10 count humidors and put Boveda packs in every3 months.

I am sure the use of Boveda packs allows be an absolute perfect smoke every time.

"When it comes down to it, all you need is a cup of coffee and a good cigar." Johnny Guitar

Easy Seasoning

So easy to toss the old package and replace on a monthly basis. Last for 45 days or so.

Phillip D.

Verified Buyer

Humidor Seasoning

Easy, fast, and perfect for seasonings any humidor. Bovefa products are 100% trusted in my humidor.

Michael B.

Verified Buyer

GREAT Humidor Refresher

This does an amazing job of getting your humidor back to it's proper humidity. Easy to follow instructions and 2 weeks later, you're back in business.

seasoning went very well

I bought King Chii 16L electronic humidor, needed to season the shelves, did an on line chat with Boveda, I was given the instructions on how to season before use, perfect, I bought one 82% pack, popped it in the humidor let it set close and not running for a week, watching my gauges it came up to 81.5% after a week I removed the seasoning pack, popped in a 62% and started the machine, I let it run for a day, gauges all looked good sooo i put ion all my cigars, the humidors been hold 69% at 70 degrees for three days now, very happy with Boveda so far.. don't want to mess with water, that would bring me back to the problem I had chasing the humidity around in my wood humidors, great product...
Reviews Loaded
Reviews Added