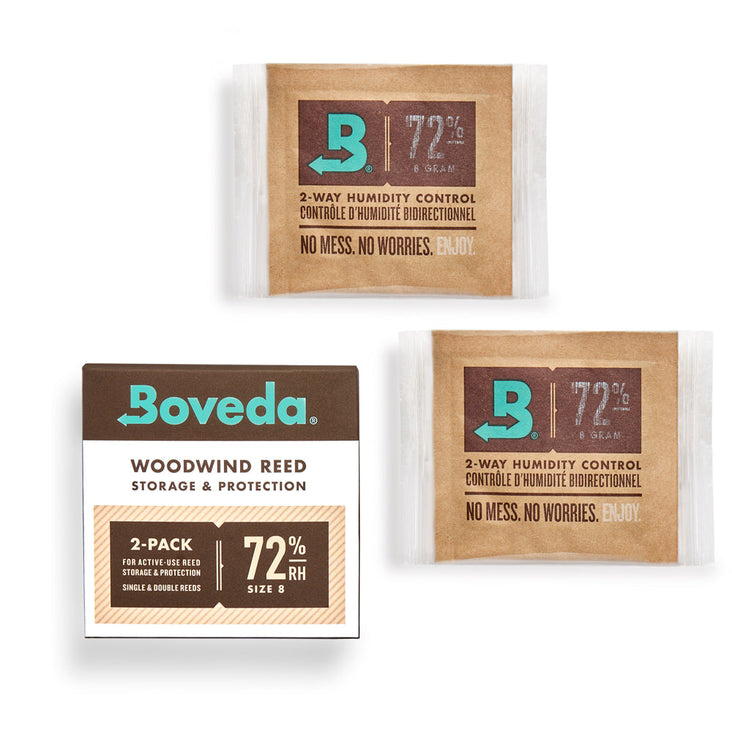 B72 | B84 Protection for Woodwind Reeds
Helps woodwind reeds keep their shape to maintain an airtight seal to your instrument's mouthpiece for better tone. Same-Day Play dampens reeds for rehearsing or performing. Long-Term Storage keeps reeds from drying out and splitting between gigs. One (1) small Boveda protects up to eight (8) reeds in your reed case for two (2) months. 
Watch Now
Why is Boveda Good for Reeds?
Storing reeds properly at a consistent humidity level is one of the most important things you can do as a woodwind player. Using Boveda in a reed case extends the life of reeds. Watch this video to learn how use Boveda to protect woodwind reeds.
Information
DETAILS:
Single reeds and double reeds can last longer when you store them with Boveda, including reeds you use with a:
Bassoon
Clarinet
Contrabassoon
English horn
Oboe
Saxophone
HOW TO USE:
BEFORE USING BOVEDA:
Boveda is safe to touch woodwind reeds.
DO NOT mix different Boveda RH levels within the same reed case.
DO NOT use other humidification products with Boveda in the same reed case because they will fight against each other and reduce the efficiency of Boveda.

STEP-BY-STEP INSTRUCTIONS:
Remove the clear overwrap from the pack. (DO NOT OPEN the Boveda itself.)
Insert the unwrapped pack into a pocket or available open area in the reed case.
Close the reed case. Always keep your case closed when using Boveda.
PACKAGING:
Each Boveda is individually overwrapped.
SPECIFICATIONS:
2.75"/7 cm x 2.5"/6.35 cm
LIFFESPAN:
Replace Boveda 2-way humidity packs for woodwind reeds every two (2) months.
ACCURACY:
B72: Achieves and maintains a constant relative humidity (RH) range between 70% and 75%
B84: Achieves and maintains a constant relative humidity (RH) range between 80% and 85%
INGREDIENTS:
Food-grade salt, purified water and a food-grade thickening agent sealed inside a leakproof membrane.
Our Customers Say
Total 5 star reviews: 2
Total 4 star reviews: 0
Total 3 star reviews: 0
Total 2 star reviews: 0
Total 1 star reviews: 0
100%
would recommend this product
They seem great! (first-time user)

Boveda for Reeds

Serves the purpose well-will be buying more.
Reviews Loaded
Reviews Added