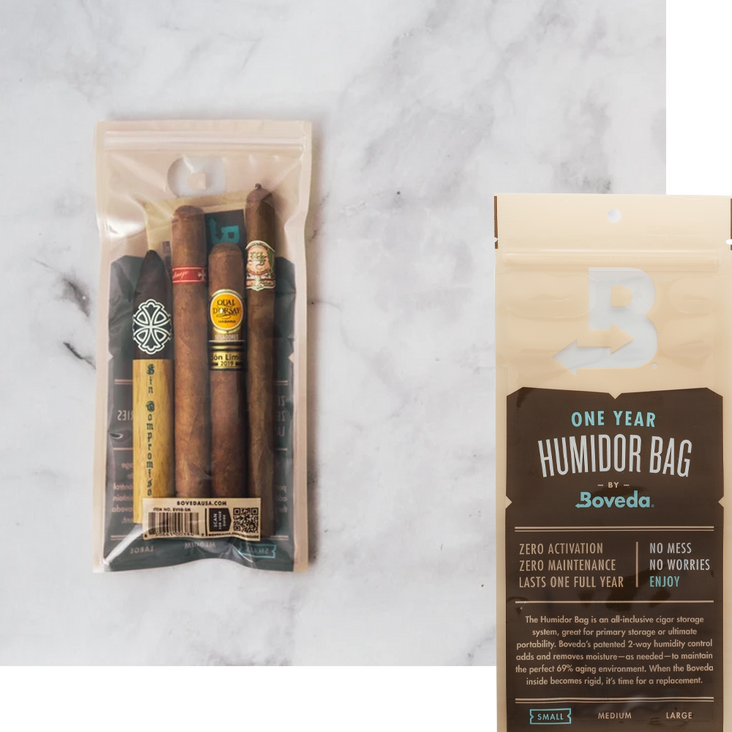 Small Boveda Humidor Bag
Even a few hours without humidity protection can affect the flavor and enjoyment of premium cigars. Travel with cigars but keep them fresh with 2-way humidity control. (Sorry, cigars not included.)

Boveda Small Humidor Bag versus a plastic kitchen bag:

3X stronger—provides the same protective moisture barrier as a tupperdor—without the bulk

Protective barrier keeps humidity in, odors and dry air out

Preloaded with Boveda 69% RH, which releases and absorbs moisture as needed to protect the oils and sugars in tobacco
Durable—just replace the Boveda inside and you're good to go for another year
The Small Humidor Bag is for:
Up to a 5 cigars

One year of portable, airtight cigar storage

Jacket pocket, backpack or handbag

Added protection inside a porous travel cigar humidor—like a leather cigar case
Watch Now
How to Open & Use a Boveda Humidor Bag
Opening a Boveda Humidor Bag for the first time can be tricky. Master the skill plus learn why it's smart to use a specialty bag exclusively designed to store cigars. Each Boveda Humidor Bag is preloaded with a cigar humidity pack to protect the cigars inside for up to one year.
Information
HOW TO USE:
To open a Small Boveda Humidor Bag:
On the sides of the bag near the top are notches to show you where to open the bag.
Tear off the top of the bag, then pull the opposing top edges apart.
Open the bag to insert your cigars. (The preloaded 69% RH is not individually overwrapped, so it's ready to protect your cigars.)
Gently run your fingers across the zipper closure on top to securely seal the humidor bag.
LIFESPAN:
A humidor bag can last a lifetime. Even though it says "one year" on the front, the Boveda Humidor Bag is reusable. It's the Boveda inside the humidor bag that expires after a year.
REPLACE:
Do the touch test. Order replacement packs BEFORE Boveda is totally rigid to avoid a lapse in humidity protection in your humidor bag.
Boveda is still working if you feel: • Hardening at its corners • Soft spots among some hard areas
Boveda is expired if: • The entire pack feels rock solid all the way through.
Order Size 8 Boveda 69% RH to refill a Small Boveda Humidor Bag.
RH (Relative Humidity) above 69% is not recommended in a humidor bag, which is an airtight environment. If the moisture level is too high, cigars can develop mold. So stick with 69% RH, which prevents mold growth while humidifying cigars. Don't mix RH levels within the same humidor bag. And do not use Boveda in the same humidor with other humidification products because they will fight against each other and reduce the efficiency of Boveda.
ACCURACY:
In an airtight environment, all Boveda are accurate to +/- 2% of the RH printed on the pack.
INGREDIENTS:
Food-grade salt, purified water and a food-grade thickening agent.
PRODUCT DIMENSIONS:
8.75" x 4.25"

Our Customers Say
Total 5 star reviews: 5
Total 4 star reviews: 0
Total 3 star reviews: 0
Total 2 star reviews: 0
Total 1 star reviews: 0
100%
would recommend this product
Love it.

Works great, very simple and convenient. Awesome!

Will be good for repeated use

Excellent! Well made and sturdy.

Small Boveda Bag

Have always trusted the brand to ensure that my cigars are kept in the best possible condition.

Great product

Very happy with all Boveda products.
Reviews Loaded
Reviews Added