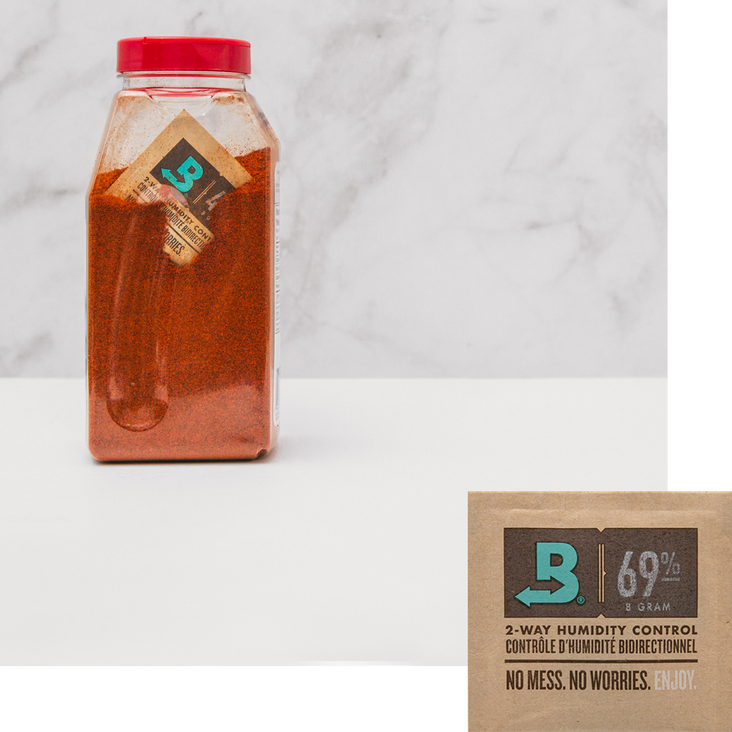 69% RH, Boveda Size 8 in 10 pack
Boveda for Dried Spices
Your food is only as good as its ingredients. Most cooks already know that dried herbs and spices expire. (If you didn't, go check your spice drawer.) Even if your seasonings haven't surpassed their shelf life, they could still be stale. Because even in a closed jar, too much or too little moisture can alter and degrade the flavor, aroma and vibrancy of dried herbs and spices.
When you replenish your seasonings, slip Boveda 2-way humidity control into each jar. Only Boveda humidity control automatically adds and absorbs moisture as needed to keep your herbs and spices fresher longer. Boveda Size 8 69% RH is sold in a package of 10.
Information
Individual product dimensions: 2.75" x 2.5"
Seasonings are expensive—protect your investment in herbs and spices with Boveda 2-way humidity control.
When spices absorb too much moisture, they're hard to measure, pour and shake out.
With too little moisture, spices and herbs lose their potency.
Preserve the aroma, flavor and vibrancy by slipping Boveda in every jar of dried herbs and ground and whole spices.
Simply insert a Size 8 Boveda in with your spices, Boveda's precise humidity control automatically restores and maintains humidity in any type of airtight container or jar.
All-natural salts and purified water inside protect spices and herbs for 6-9 months in an airtight package and 2-4 months in a container that's frequently opened and closed.
Packaging:
10 pack, unwrapped in resealable high-barrier plastic bag. Zips closed to keep these unwrapped Boveda fresh for up to 2 years.
Do not mix Boveda RH levels within the same container, and do not use Boveda in the same container with other humidification products. They will fight against each other and reduce the efficiency of the Boveda.
Our Customers Say
Total 5 star reviews: 1
Total 4 star reviews: 0
Total 3 star reviews: 0
Total 2 star reviews: 0
Total 1 star reviews: 0
100%
would recommend this product
TD

Great product that exceeds expectations!

This product is amazing. I ended up also using this for my brown sugar. The smell is enhanced and the product is fresher. As long as I keep a Boveda in my brown sugar and spices, they never seem to expire on me. Great experience all around.
Reviews Loaded
Reviews Added