Mini Toker Gift Bundle | CVault & 62% RH
The Mini Toker Bundle is the perfect budget-friendly accessory for smokers of all types. All you need to keep bud at its best—62% is optimal for drier climates. Includes:

One (1) small CVault stainless steel cannabis container to store up to 14 grams (.5 ounce) cannabis/hemp
One (1) 10-pack of Boveda Size 8 terpene shields in 62% RH (Also available in 58% RH here.)
Information
HOW TO USE:
Just place a Boveda Size 8 into the specially-engineered lid of the CVault and let Boveda get to work saving your terps.
Add flower.
Twist lid to close.
HOW MANY SIZE 8 TO USE:
Use one (1) Boveda Size 8 Boveda in a small CVault container, small jar and small bag with up to .5 ounce (14 grams) of cannabis/hemp flower.
WHY CHOOSE 62% RH FOR CANNABIS:
Choose 62% if you live in a dry climate or prefer smoking stickier flower. You can't go wrong with either Boveda RH for cannabis. Both 58% RH and 62% RH are within the ASTM recommendations for safely storing your cannabis.
Do not mix Boveda RH levels within the same container, and do not use Boveda in the same container with other humidification products. They will fight against each other and reduce the efficiency of the Boveda.
WHY STORE CANNABIS/HEMP WITH BOVEDA:
Protects terpenes with the global leader in 2-way humidity control
Preserves the aroma, flavor and effectiveness until after the grind
Creates a monolayer of purified water molecules that naturally coats trichomes to shield terpenes and cannabinoids preserving these active ingredients until use
WHY STORE CANNABIS IN A CVAULT:
Lightproof stainless steel design prevents cannabis from degrading
Food-grade silicone seal closes with a three (3) nub twisting closure system to create an airtight environment to prevent oxidation of cannabis
Shatter-proof—unlike glass jars
Stackable to easily to maximize your vertical storage space for home growers or dispensaries
Professional-grade cannabis storage container
PACKAGING:
A Boveda 10-Pack is packaged in a resealable high-barrier heavy-duty plastic bag with a zip closure. Each Boveda is not individually overwrapped.
LIFESPAN:
In airtight cannabis container: 2 to 4 months
Unopened package: Up to 2 years
REPLACE:
Do the touch test. Order replacement packs BEFORE Boveda is totally rigid to avoid a lapse in humidity protection in your cannabis container.
Boveda is still working if you feel: • Hardening at its corners • Soft spots among some hard areas
Boveda is expired if: • The entire pack feels rock solid all the way through.
ACCURACY:
RH to +/- 2% accuracy in an airtight container and may stabilize a few points below 62% RH because of container quality and external conditions.
INGREDIENTS:
Food-grade salt, purified water and a food-grade thickening agent.
INDIVIDUAL PRODUCT DIMENSIONS:
Size 8: 2.75" x 2.5"
Small CVault: 3.25" x 1.75"
3 Steps To Protect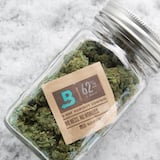 THE ORIGINAL TERPENE SHIELD™ IS CREATED TO PROTECT YOUR TERPENES
Boveda humidity control creates a monolayer of purified water to protect your flower inside your airtight container, keeping the terps you value safe until they're ready for use.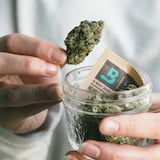 PLACE BOVEDA INTO YOUR FAVORITE AIRTIGHT CONTAINER AND CLOSE
Our patented 2-way humidity control comes in a variety of sizes to fit any storage or packaging size.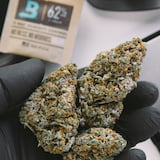 TAKE PRIDE IN A TRULY FRESH FLOWER
When you are ready to use, open the container and grind your flower. The terpenes will be released into a vibrant aroma and full flavor for you to enjoy while you're smoking.